We offer hundreds of badges across all the years and subjects that are included on EdPlace.com. They represent a particular achievement on the site, whether that's getting a great score on all the Addition worksheets or getting a passing mark after re-trying the same worksheet multiple times. There are four main badge types, most of which have three levels - gold, silver and bronze. Most badges are specific to the year the student is in (e.g. a student could have a Multiplication badge in Year 1, 2 and 3)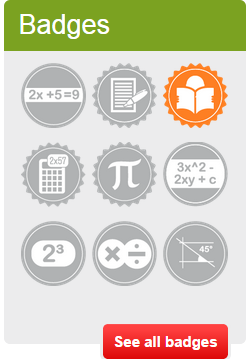 You can locate this by logging into the student account and click onto see all badges . 
Subject badges
These demonstrate mastery of the entire range of worksheets in a single subject. They're the hardest to achieve but the most satisfying. For example, getting a gold maths badge means getting 90% or more in every single maths worksheet in a year.
  Curriculum badges 
These badges show that a student has completed worksheets that make up coverage of an area of the National Curriculum (like Vocabulary or Biology. This usually means that they have successfully completed worksheets in a range of topics.
  Topic badges
Our most common badge, representing the successful completion of all worksheets in a single topic with a score of at least 70% in each. To keep things challenging we require a minimum number of worksheets to be included in a topic before we release a badge for it.
Bonus badges
We don't give too much away about our bonus badges but we hope they'll be fun and motivating for students who are performing well and those who need a bit more support. They reward steady progress and hard work as well as top marks. Some have levels and some don't. You'll have to unlock them to find out which!