We understand that each child's learning style is different, and that means their accessibility needs may vary. We have added our new accessibility toolbar in the student account which can help your child reach their full potential.
There are two ways of accessing the toolbar. Your child can access the toolbar by logging into student account and click on the accessibility tab which is located on the dashboard.
Alternatively, your child can access the toolbar whilst in activity by selecting the accessibility icon that appears on the righthand side of the screen.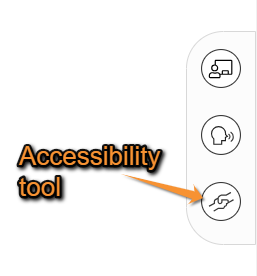 In the student account the toolbar will look like this:
Below is a summary of each feature and how each can help your child achieve their best.
Adaptable font size

Your child can decrease and increase the size of the font. This helps ensures that students with visual impairment can access the content.
9 different font options
Your child can choose from 9 different font types using typical letter formation for easy recognition (One specific Dyslexia-friendly font).
Ability to change the background colour

You now have the ability to change the colour of the background and fonts to reduce visual stress.
Reading ruler
The reading ruler function underlines text to enhance reading fluency and remove the issue of missed lines.
Reading window

This feature allows you to focus on a specific section of the page. So you can highlight just the question to view or the help page. This encourages focus.
Dictionary

You can now highlight and click on a word find out the definition.
Translate into your native language
You can now translate the text into a different language. This can be really beneficial to students if English is not their first language.
Plain text mode
You can remove the images on the activity and just view the questions.
Magnifier
By using the magnifier you can click and drag the magnifying glass to magnify text on the screen.
User guide
This is the user guide button which will give you an overview of the toolbar.
Read aloud
With this feature, you will now have the ability to listen to the audio of the question. This can be very useful for students with a low reading age and assist students that are visually impaired. This is also very useful for children in key stage 1 who are just learning to read and may need additional help. This button is only located on when the student is attempting to complete an activity.